FAQ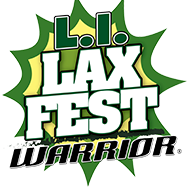 1. Is this tournament for boys or girls? -
BOTH! There will be a boys tournament and a girls tournament.
The Boys LI Lax Fest will be played on June 16th and 17th, while the girls LI Lax Fest will be played on June 16th.
2. How do I register? -
Click on the tab above that says "Registration". We use an easy online registration process.
3. When will the schedule come out? -
The schedule will come out at least 1 week prior to the event.
4. What else is there to do in the area? - The LI Lax Fest is played in the heart of Long Island, which means that there are tons of restaurants, amusement parks, and beaches all within close proximity to the fields.
6. Is there a multi-team discount? - Yes! If you are registering four or more teams from your club, there is a $100 discount for each team.
7. Can I pay by check? - Yes, you may pay by check. All checks must be filled out to Dynamic Sports sent to 71 Mall Road, Commack, N.Y. 11725.
8. What is LI Lax Fest refund policy? - NO REFUNDS will be issued after the start of tournament play. If we do have to cancel the event after start of play, we will issue you credits to be used at the following year's LI Lax Fest or any of our other 20 My Lacrosse Tournament events.
9. What is the LI Lax Fest weather policy? - There are no "rain dates" for the Long Island Lax Fest. Assume that games will be played on their scheduled dates. If inclement weather causes a game stoppage (i.e lighting sighting) during the event the following rules apply:
Play will stop until the Tournament Director deems the weather suitable for resuming

If the delay is substantial, Tournament HQ may make a decision to shorten all remaining games until the tournament is back on time.

No refunds will be issued due to inclement weather.
---
Our Sponsors: